Trying to explain the ideological contradictions of neoliberalism is a fools errand. The problem is that for 30 years those in favour of privatising hospitals and nationalising football stadiums, of regulating marriage and deregulating banks, and of subsidising coalmines and opposing renewable energy  have not needed to explain why their friends were treated differently from their enemies.(p.23)
The opposite of the narrow economic agenda of neoliberalism isn't a progressive economic reform agenda; it is the re-establishment of a broad debate about national interest. (p.59)
(Richard Denniss, Dead right- How neoliberalism ate itself and what comes next, Quarterly Essay 70, 2018)
In this August edition you can find out about:
Eating the Earth: Why the food movement is unstoppable;
No more coal letter-writing cafe;'
Words in Winter – Daylesford, Newstead, Yandoit & more;
Repair Cafes on the go – Daylesford and Castlemaine;
Environmental Justice Atlas workshops;
Democracy Working Group;
Democracy4Dinner;
Two September upcoming events: David Holmgren & Retrosuburbia to Castlemaine, and Michel Bauwens to Bendigo;
Plastic bags and re-minding shopping;
Central Vic Climate Action fund-raising for court costs;
Local Castlemaine radio fundraiser;
Regional Centre for Culture events;
Food for thought-

E

co-collaborative housing and de-growth, and Community Involvement in Decision Making 
Eating the Earth: Why the food movement is unstoppable
When : 7.00-9.00pm, Thursday, August 30th 2018
Where: Daylesford Town Hall 
Cost: $10 (Refreshments included in ticket price)
Organised by: #thefoodequation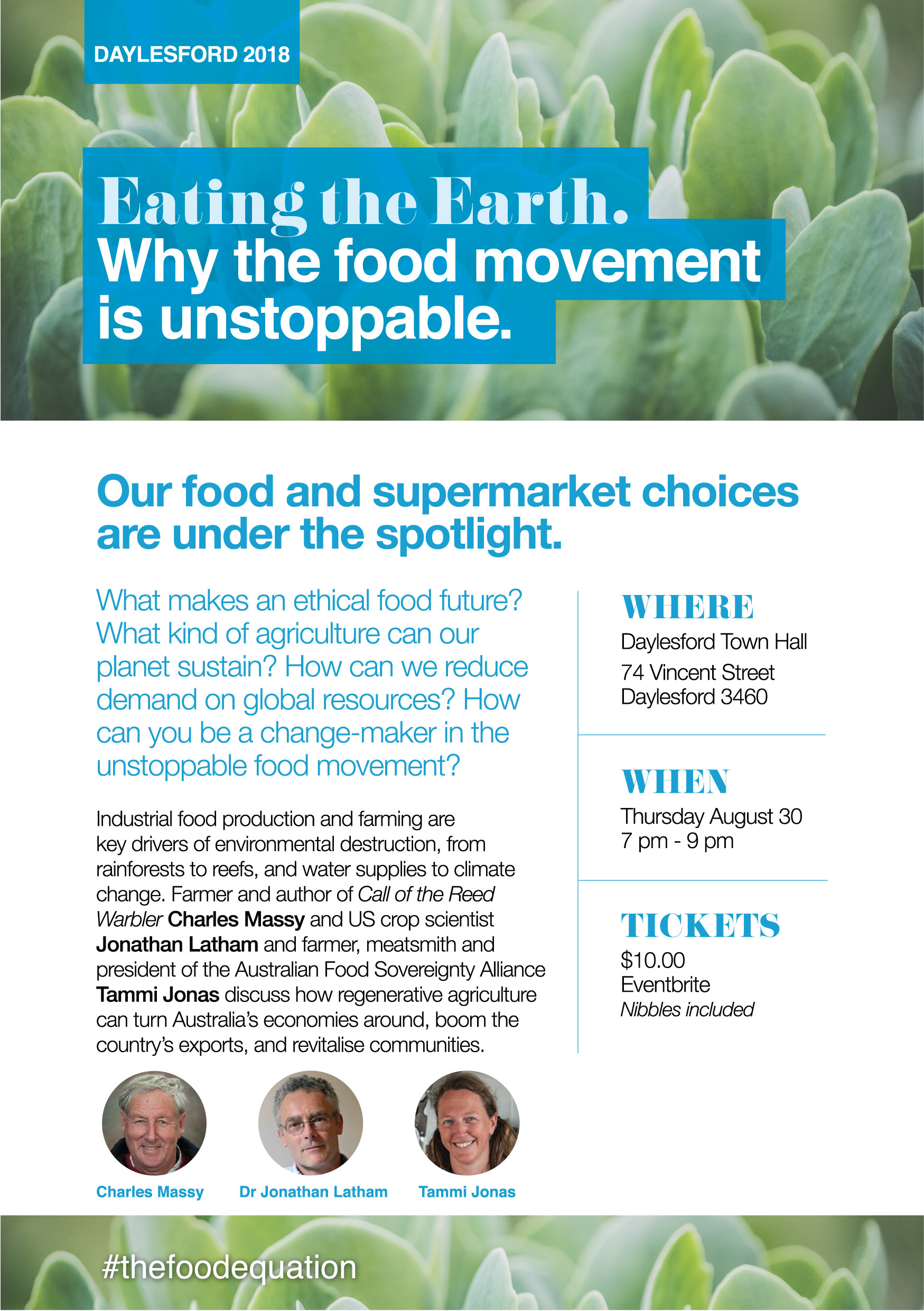 Join Charles Massy (Call of the Reed Warbler), Dr Jonathan Latham (international food advocate) and our own local resident meat-smith Tammi Jonas for a stimulating discussion on how regenerative agriculture can turn Australia's economies around and revitalise rural communities.
Charles Massy is an author and farmer with a focus on transformative and regenerative agriculture. His latest book, Call of the Reed Warbler, challenges the way we farm and grow food, and puts a lens on the vital connection between soil and our health. 
Dr Jonathan Latham is an international food advocate and crop scientist based in New York. He is executive director of the Bioscience Resource Project, and editor of Independent Science News. He has written for Truthout, Salon, MIT Technology Review, Resilience and the Guardian.
Tammi Jonas is resident meatsmith at Jonai Farms, where she and her family of ethicurean farmers raise pastured rare-breed pigs and cattle. Jonai Farms is engaged in the solidarity economy of community supported agriculture-CSA, feeding 80 member households each month. Tammi is president of the Australian Food Sovereignty Alliance, chair of the AFSA Legal Defence Fund, and blogger: Tammi Jonas: Food Ethics.
No more coal letter-writing cafe
When: 9.30am, Friday August 17th
Where: Dove Cafe, Cnr Doveton and Hargraves Street, Castlemaine
Organised by:  Central Vic Climate Action with support from Localising Leanganook
This letter-writing cafe is the first in a series of Friday morning actions – a way in which we, as concerned community members, can share a cuppa and write a letter to our politicians so they know how we feel about Adani and the mining of coal, and how we feel about embracing renewable energy. Come for an hour or so and bring friends and neighbours. We'll brainstorm ideas for inclusion in letters. Then each of us can write in our own words and style. Bring pen and paper (we'll have some extra if you forget) or your own laptop.
Words in Winter – Daylesford, Newstead, Yandoit and more
It's Words in Winter time again around Hepburn and neighbouring shires –  a celebration of words, stories and ideas in all their forms shared by locals and visiting presenters through readings, poetry, theatre, music, talks, workshops, visiting authors, and exhibitions. This year's theme is 'change and chance'.

Concentrated over two weekends in August- 18/19 and 25/26, events are located in Daylesford, Newstead, Yandoit, Trentham and other central Vic towns. Here are a few highlights with plenty more worth checking in the programme: https://wordsinwinter.com/programme/
Hepburn Springs' David Holmgren in conversation with Cate Kennedy on the power of ecological writing in our transition to a carbon-positive, low-energy future;
Arnold Zable on the humanising power of story;
Hepburns' Kirsten Bradley & Nick Ritar reading from Milkwood – Real skills for down-to-earth living;
Petrus Spronk and Mana Moto duo in anything but words, an illustrated musical event at Yandoit's historical Uniting Church;
Story telling with Daylesford's Anne E Stewart;
Newstead's Gen Barlow on the couch with Cheryl Kernot and Jenny Hocking;
and Bain Attwood on his book The Good Country – White settlement and what really happened in your back yard.
Repair Cafes on the go – Daylesford and Castlemaine

Plans for the new Daylesford Repair Café are underway with two options for attending the first fixers and supporters meeting:
When: 1 – 2.30pm,Thursday 16th August 2018
Where: Daylesford Neighbourhood Centre, Camp St
or 
When: 6.30 – 7.30pm, Thursday 16th August 2018
 Where: Daylesford Senior Citizens Centre, rear Town Hall
People who are handy with clothing/textiles, bicycles, electrical appliances and furniture/wooden objects are welcomed.
Castlemaine Repair café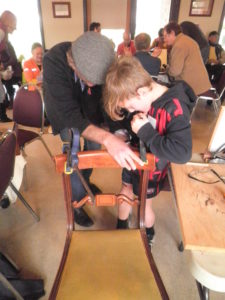 Castlemaine's next Repair Cafe is Sunday August 26th in the Ray Bradfield Room with the usual range of electrical, sewing and other repair tables. Plans over the next few months include a tiling workshop and sewing machine maintenance. More info in our next e-news or go to Castlemaine Repair Cafe's facebook page.
At 2.00pm, after August 26th Cafe, there'll be the Really Really Free Market, in Victory Park next to the Cafe. Bring and exchange stuff.
Environmental Justice Atlas workshops
When: 9.30am to 4.30pm, Sunday August 5th and 12th
Where: Lower Merri, CERES Community Environment Park
Cnr Roberts and Stewart St, East Brunswick, 3057
Organised by: Australian Environmental Justice (AEJ)
Free of charge
Make Australian conflict visible internationally: Landfills, soil contamination, lead poisoning, water conflicts,  Indigenous land rights, coalmines, gas extraction, forest clearing over-fishing, water pollution, damming, air pollution, uranium mining etc.
The international online Environmental Justice Atlas (EJAtlas)
— http://www.ejatlas.org/— is a teaching, networking and advocacy resource for strategists, activist organisers, scholars, teachers and citizens to find out about often invisible eco-conflicts taking place.
The EJAtlas has 2500 worldwide cases registered, but only 17 recorded so far for Australia. This workshop supports every participant to research and write another significant case study, which will be peer reviewed and posted online with your name
as the contributor. Support can be provided to contribute even if you can't come to the workshop (see contact details below).
AEJ is a project of Friends of the Earth (FoE) Australia and CUR, RMIT University. Think of all the Australian environmental conflicts (social conflicts over environmental uses) that could be promoted.
Please bring a laptop. To register and for more details, contact Anitra Nelson— anitra.nelson@rmit.edu.au 0426 766 755 — and/or register here: https://www.eventbrite.com.au/e/ejatlas-workshop-5-and-12-august-tickets-47972891209
Democracy Working Group
Since the forum How can we do democracy better? in March this year, a Democracy Working Group has formed to continue the conversation, to explore models which improve our democracy and to initiate a process of visioning with and for our community and bio-region. This is a joint project between Localising Leanganook and Democracy4Dinner. Email us if you're interested in contributing to this process or contact Nikki on 0432 232 073.
Have a look at Lexi Randall-L'Estrange's Community Involvement in Decision Making Discussion Paper at  https://democracy4dinner.org/  or at Localising leanganook's food for thought https://leanganook.org/
If you missed the forum in March, you can now watch and listen, including Q&A.
There's also a short vox-pop video where the audience speaks:
'https://www.youtube.com/watch?v=I148xLEeOow
Democracy4Dinner
When: 7.00pm, Tuesday August 21st, 2018
Where: Lola Cafe, Castlemaine
Topic: "Are politics and policy incompatible? Democracy in the age of "mega-identity" politics", a conversational dinner on identity, polarisation, and the impact of politics on policy
Cost: $35 set menu at Lola.
Book at  https://d4daug2018.eventbrite.com.au/. 
Upcoming event- David Holmgren & Retrofitting Suburbia in Castlemaine
When: 7.00pm, September 6th, 2018
Where: Castlemaine Town Hall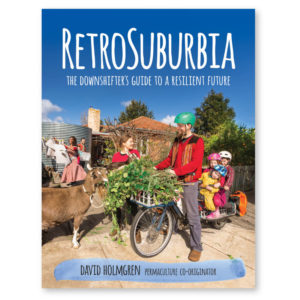 Put the date in your calendar. More information coming in our September e-news.
Another upcoming event- Michel Bauwens comes to Bendigo
When: Sunday, September September 16th, 2018
Michel is the founder of the global Peer To Peer Foundation and will be key note speaker at the 2018 Sustainable Communities National Summit in Melbourne in mid September.
More details in Localising Leanganook's September e-news.
Central Vic Climate Action fund-raising for court costs
A Win for Democracy" – TRESPASS CHARGES WITHDRAWN FOR STOP ADANI DADS
"We should never lose sight of the fact that
we have the right to protest"
(Bendigo magistrate)
Central Victoria Climate Action is raising funds for court costs. A Bendigo magistrate has ordered that charges be withdrawn for two dads charged with trespassing in the office of Nationals Senator Bridget McKenzie. The group was staging a mass occupation of her office in May 2017. They were drawing attention to the Coalition government's intention to loan $1 Billion of taxpayers' money for the Adani mega coal mine.
Local solicitor Bill O'Donnell declared the case "a win for the democratic right of citizens to approach politicians for legitimate reasons". Because this important democratic principle was at stake, Mr O'Donnell who has worked pro bono for the group, advised that a barrister be employed.
We're confident that if lots of us put in a little bit, this fundraiser will once again prove to the pollies that they need to stand with our environment, our kids and their future – rather than a corrupt industrialist & yesterday's dirty fossil fuels.
Here is a link to the chuffed fund raising campaign for court costs;
Plastic bags & re-minding shopping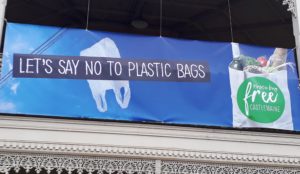 While Coles and other corporates play games and continue to get media coverage for their efforts, Plastic Bag Free Castlemaine continues with the campaign to support retailers and consumers to go plastic free through a radical process of re-minding.
Rob Hopkins, one of the pioneers of the Localising movement, informed us that 'governments can't (act) and corporations won't',  so we need to get on with 'being the change' (Ghandhi).  We continue to advocate for policy and legislative change, locally and further afield, but what we mostly focus on is supporting behaviour change through de-mystifying, or 're-minding' people.
All the surveys tell us that most people support a plastic bag ban, or a return to re-usable shopping bags. Our job is to turn people on to the simplicity of the task – to 're-mind' ourselves.
Dominant culture would have us act as automatons, accepting a bag at the counter being one manifestation of this.  Our stickers for retailers, handy tips for remembering your bag, bag give-aways, running events, talking on radio, talking to retailers and putting up large signs are all simple acts of aiding the process of re-remembering that which we already all know – that we are inextricably connected with our planet.
Witnessing the awakening, the 're-minding' of 'consumers' and the process of getting purchases from shop to home, or the discussions about where to get un-packaged foods, or our recent event: Plastic Free Periods, may seem like small and insignificant acts when faced with the knowledge of how much we need to do to be 'sustainable'.  We take inspiration and hope from The Lorax  "Unless someone like you cares a whole awful lot, nothing is going to get better, it's not".
(with thanks to Lucy Young and Plastic Bag Free Castlemaine)
Local Castlemaine radio fundraiser
When: Saturday August 11th, 2018
Where: Diggers Store, Campbell's Creek
Local Castlemaine radio Main FM fundraiser. Come along for some fun!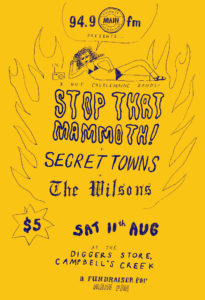 Regional Centre for Culture events
The Regional Centre for Culture in 2018 is an initiative of the Victorian Government through Creative Victoria, in partnership with the Dja Dja Wurrung Aboriginal Clans Corporation, Central Goldfields Shire, City of Greater Bendigo, Hepburn Shire and Mount Alexander Shire.
Plenty of free and low cost events happening in August and September including a pipe and brass concert in Daylesford, podcast interviews with indigenous community members,  weaving and basketry workshops in Castlemaine,  art exhibitions in Newstead and Maryborough, book fares in Clunes, exploratory music in Bendigo  and much more. For more information go to  www.rcc2018.com.
Food for thought
Check out the food for thought tab for two stimulating reads: