This we know: The Earth does not belong to Man; Man belongs to the Earth. All things are connected like the blood which unites one's family. Whatever befalls the Earth will befall the sons of Earth. Man did not weave the web of life, he is merely a strand in it. Whatever he does to the web he does to himself.
(Chief Seattle, 1852, as his people gave up their ancestral lands to white settlers)
"One thing that direct action protest does is it creates extraordinary opportunities for people to transform their social relations. That has happened in the 'lock the gate' movement in a really profound way, where farmers, Aboriginal people and conservationists have made common cause. People discover when they go up against the mining industry that they have quite a bit in common with others whom they have historically, and in contemporary times, had a fair amount of conflict with."
(Organiser at Bentley Blockade, 2014, The Extinction Rebels, cited in Scott Ludlum essay, The Monthly, July 2019. See link in 'Food for Thought' section below)
……………………………..
The July newsletter includes information about:
Cooperatives as Alternative Economic Structures-

Next Steps

Central Vic Climate Action- Antidotes to despair and anger
Daylesford Culture Club– Curing Olives
Woodland Birds– Restoring habitat and a bird walk
Curious about climate? – Ramp up resilience- Bendigo and surrounds
Vocal Nosh- Newstead

Repair Cafes

–

Castlemaine,

Daylesford, Bendigo, Woodend- Mending Hearts story
'Village'project Award for Bendigo's bHive  & car sharing
Castlemaine Documentary Film Festival

Talking Summer in Newstead

Baringhup community win- a stop to broiler farm

Environment & Sustainability workshops-

Castlemaine

Farming Democracy and Food sovereignty

A poem from the road- Bob Brown Stop Adani Convoy
Cicada Story Slam – Daylesford

Interested in biodiversity data?

Eucalypt photo competition

Food for Thought– Daniel Schmachtenberger podcast; Extinction Rebels essay; Greta Thunberg talks to the UN;  and Milkwood's Good books for troubled times.
Cooperatives as an alternative economic structure – Next Steps
A good many people left home on a cold wet night on the last Sunday in May to be part of  Localising Leanganook's hearty conversation  around cooperatives as an alternative economic structure. Katie Finlay and Melissa Willard, two founders of Harcourt Organic Farming Cooperative, and Dave Kerin from Earthworker shared their experiences, their learnings and their wisdom.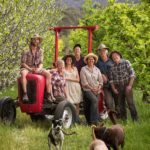 Many felt inspired to further this conversation, to explore in more depth local cooperatives in the developmental stage, and to scope new cooperative ventures to meet community needs. A bundle of sticks tied together was placed in the centre of the room as a metaphor for the cooperatives- individuals together have strength.
Plans are underway for a more detailed session. Watch this space for more information.  If you're interested in helping to plan, or to participate in, this venture, email Nikki at Localising Leanganook.
Central Vic Climate Action- Antidotes to despair & anger
Central Vic Climate Action is gearing up to coordinate collective effective action as an antidote to despair and anger. The Adani mine still hasn't started,  climate change is the #1 threat nominated by Australians in the recent Lowy Institute Survey and inquiries and memberships to climate action groups have boomed after the election.
Here are some of the actions planned over the next couple of months.
Castlemaine School Strikers Shindig: Celebrating the cool and courageous
When: Friday July 19th 4pm to 6.30pm
Where: exact time and venue tbc
Us oldies have been inspired and uplifted by those pesky Castlemaine young folk- hundreds of whom have consistently walked out of school calling for real action in a climate emergency.
To show our appreciation and support we are planning to hold a party for them on Friday July 19th. We have hired two local bands (made up of school strikers ) and a hall. We plan to do all the work and provide the refreshments etc so they can party. Help out- we need 10 people to donate $100 to get those bands pumpin' and the kids jumpin'. Ring Dean 0403 160 091 to donate your $$ or to volunteer snacks, refreshments or to help out on the day.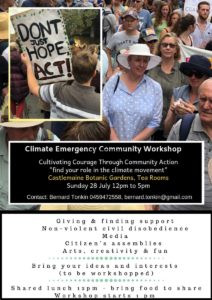 Courage through Action: finding your role in the climate movement
When: Sunday July 28th, noon to 5pm
Where: Botanical Gardens Tea Rooms
A chance to regroup and reconnect with the amazing things that are happening regionally and, most importantly, work out how in this time of a climate emergency we can do what is required- doing the  extraordinary together!  Put the date in your diary or call Bernie 0459 472 558 or e: bernard.tonkin@gmail.com if you want more details or to lend a hand putting it together.
Going Deeper- Dinner and Discussions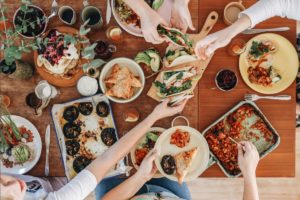 Planning meetings, workshops and actions help us get some of the way but they are only part of the story. Our relationships need nurturing and our ideas, stories and reflections need to be shared so we can build a clearer picture of where we are going and how to get there.
So every Fourth Friday of the month come along for a pot luck meal (bring what you can to share) and join the discussion.
The next one is on a Saturday….July 27th in Walmer
Friday August 23rd, Castlemaine
Friday September 27th tbc
Friday October 25th Chewton
For more details about where , what and how contact Dash 0401 466 377
Daylesford Culture Club- Curing Olives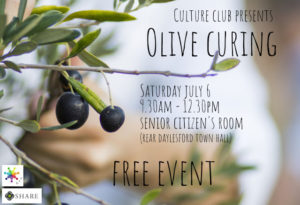 When: Saturday July 6th, 9.30am
Where: Senior Citz Centre, rear Daylesford Town Hall
It's olive picking season! If you missed the session on  immune boosting ferments in June, make sure you get to this watch and learn workshop focused on curing olives. No bookings required – just rock up on the day.This is a free event and everyone is welcome.
Woodland Bird's- Restoring habitat and a bird walk
Connecting Country's landscape restoration projects have focused on protecting and enhancing habitat for woodland birds. Habitat loss is the single greatest threat to woodland birds, and is exacerbated by other threats including invasive pest plants and animals, and climate change.
Photo:Tree Violet (Melicytus dentatus), a hardy species that provides dense cover for small woodland birds ( Jacqui Slingo)
Connecting Country is working with volunteer landholders across the region to support restoration of priority habitat on their properties. The main focus of this three-year project is weed and rabbit control to promote natural regeneration of native species. Connecting Country has met with selected landholders to assess their properties and develop management actions tailored to their needs. Now, with our project partners Dja Dja Wurrung, we're preparing for weed and rabbit control, fencing to exclude stock from priority habitat and strategic revegetation of key missing understorey plants.
For more information: https://connectingcountry.org.au/
Bird walk at Tipperary Springs, Daylesford
When: 9am, Saturday 6 July, 2019
Organised by: BirdLife Castlemaine with Tanya Loos
Bring: water, snacks, binoculars, hat, sunscreen, sturdy shoes, weather-appropriate gear.
Join us at Tipperary Springs, Daylesford for a winter bird walk, led by Daylesford local, Tanya Loos. The walk will go for about three hours. There are narrow paths along the creek with some hilly/rocky sections. Bring a thermos and snacks to share. Beginners very welcome.
Photo: Diamond Firetail by Bridget Farmer
Location and directions: Meet at Tipperary Springs in Daylesford VIC (follow Tipperary Springs Road). Follow this link for a map: click here
Time: Meet at Tipperary Springs at 9:00 am, or to carpool from Castlemaine meet at 8:30 am outside Castlemaine Community House (former Continuing Ed building), 30 Templeton St, Castlemaine VIC.
For more information: castlemaine@birdlife.org.au, or call Judy Hopley (0425 768 559) or Asha Bannon (0418 428 721).
Curious About Climate? Ramp up Resilience
On a cold June night in Rochester, 80 people from regional communities came together to warm up discussion about the weather and climate. Goodwill was abundant, leaving people inspired to tackle challenges around climate risk. People travelled long distances to a room full of people doing great things, coming from towns including: Rochester, Girgarre, Echuca, Gunbower, Bendigo, Inglewood, Wedderburn, Tongala, Castlemaine, Ballan, Shepparton, Maldon, Lockington, Moama, Rushworth, Axedale, Wangaratta, Lockington, Ballarat and Bridgewater.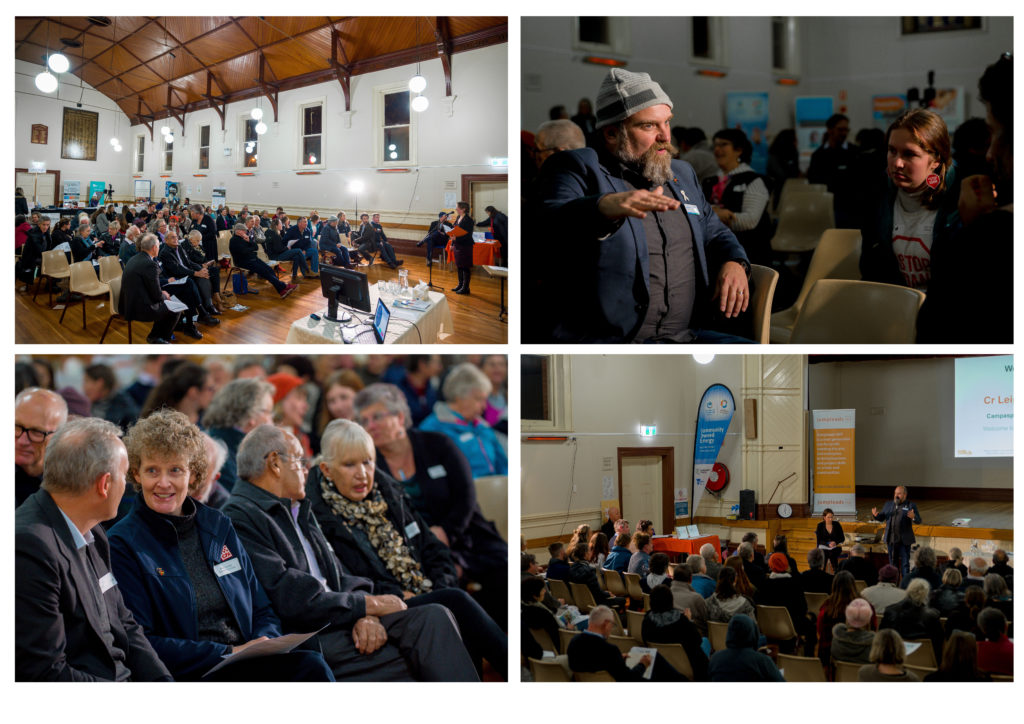 Another upcoming session is a full day workshop to expand ideas and projects in relation to changes in weather. Specifically, to support local solutions: gain tips, tricks and resources to help make your project happen. An inspiring day to clarify your thinking and connect with others.
FORMAT: Expand Your Impact
VENUE: Inglewood Neighbourhood House,
20 Verdon St, Inglewood
DATE: Thursday 8th August
TIME: 10:00am – 4:00pm
Participation for this event is FREE. Bookings essential- REGISTER NOW HERE
For info on other workshops over the next couple of months: https://www.makeachange.org.au/ramp-up-resilience/
Vocal Nosh- Newstead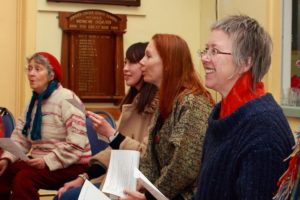 When : 6.00pm, Sunday July 7th,
Where: Newstead Community Centre
What: A good sing & good food in convivial company.
The theme this month is New Songs and the leaders will be Scott Sanders and Tara Flinn.
Cost: Adult entry is still $15, concession $12 and children are free. Entry price includes a healthy meal.
Repair Cafes- Woodend, Castlemaine, Daylesford & Bendigo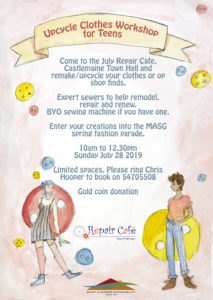 Central Victoria abounds with Repair Cafes. Find your nearest cafe and bring along your household, garden, clothing, bicycle, and other items to the skilled and generous team of repairers. Reduce waste, learn new skills and get to know your community.
Woodend: Saturday July 6th, 10am @ Neighbourhood House
Bendigo: Saturday,  July 20th, @ Old Church on the Hill
Daylesford: Sunday July 21st, 1-4pm, @Victoria park Pavillion
Castlemaine: Sunday July 28th, 10am-1pm, @ Town Hall
Castlemaine's next Repair Cafe will include a workshop for teens to remake and upcycle clothes from 10 to 12.30. Experienced sewers to help with designs and sewing techniques. Overlockers to finish off edges etc. Know a teenager who'd like to learn to remake/re- design old, not quite right or second hand clothes? Get them to book in. 10 places only.


'Village'project Award for Bendigo's bHive  & car sharing
Congratulations to Bendigo's bHive who were awarded a $60,000 Great Ideas Grant for their "Villages" project.  The digital Villages platform will connect groups of neighbours together across Greater Bendigo to build relationships, share free resources and skills, run events together and communicate with each other collectively and individually. Villages aims to create an epidemic of belonging which is owned together!

A car sharing project is also being developed which will offer car sharing vehicles by the hour to organisations and individuals, saving time, money, hassle and reducing the number of cars on Bendigo roads.  For more information: https://bhive.coop/
Castlemaine Documentary Film Festival

When: Friday 19th to Sunday 21st July
Where: Theatre Royal
What: Featuring 12 films across three days.
Tickets: single sessions and full festival pass.
Program and online purchases:  visit www.cdocff.com.au.
Opening night of the 2019 Festival will be a green carpet affair, with the World Premiere of the global youth climate movement film 'Youth Unstoppable', updated to include footage of our own Castlemaine student climate strikers! The screening will be followed by a live Skype Q&A with the film's director and youth climate activist, Slater Jewell-Kemker, and Swedish schoolgirl, Greta Thunberg. With a diverse range of films, audiences will come face to face with extraordinary real-life characters, real-life stories and real-world problems. The festival connects audiences with many of the film directors, key contributors, and specialist panels to uncover the stories behind the stories, providing a deep and enriching experience.
"Our films will delight you, challenge you and make you laugh; they will show you the true power of immersive cinema on the big screen, and they will all get you talking!" says Geoffrey Smith, the festival's Artistic Director.
The 2019 festival boasts a world premiere screening, an Australian premiere screening, a Victorian cinema premiere screening and an exclusive event screening with notable Australian writer, Man Booker prize winner Richard Flanagan, appearing live in Castlemaine.
Another highlight of the festival is the yet-to-be-released 'The Final Quarter', a film about champion AFL footballer Adam Goodes and the incidents that provoked heated media commentary and divided the nation in the final years of his playing career. This film is about so much more than football, as it delves into racial vilification, and the conversation will continue after the screening with Marngrook Footy Show host, Leila Gurruwiwi.
Talking summer in Newstead
In June this year Newstead residents gathered to discuss their experience of living through drier, hotter summers, like this past one, and how to manage future ones. Talking Summer was an informal gathering providing a forum for people to talk about their fears and ideas for living well in a changed climate.
Two initiatives have emerged. First, an application to the Victorian Government's Community Climate Change Adaptation fund which outlines a community- led 'treescape' initiative to purchase and plant at least 100 advanced trees to provide cooler and greener canopy for communal areas around town supported by education, neighbourhood engagement and local expertise. Results of the grant submission will be known at the end of July. Second, an offer by Sandon local Ross Uebergang, a Swinburne University Lecture of Landscape Design, for his students to research and design a township treescape plan for Newstead with the aim of giving more shade and cooler zones around the most active precincts. Their work includes research on Newstead's historical context, contemporary usage patterns, horticultural and urban landscape best practices.
For more information email Kate Tucker – kate@inhereconsulting.com.au
Baringhup community win- a stop to the broiler farm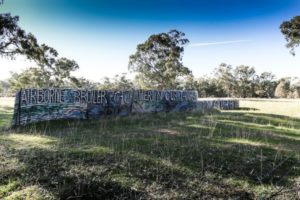 Baringhup community members were delighted to win their seven-year battle against controversial broiler farm development. Campaign Spokesperson Marg Lewis said: 'It was rare for a community to take their fight to the Supreme Court, much less the Court of Appeal'. She put it down to a very resilient group of people that would not give up."Everyone got behind it and it was just an amazing thing to watch how the community came together."
Here's the ABC news story from May 23rd: https://www.abc.net.au/news/2019-05-23/baringhup-community-finally-win-fight-over-chicken-farm/11142660
Environment & Sustainability workshops- Castlemaine
Castlemaine Community House is offering the following workshops during Term 3:
Beeswax Wrap Workshop: Easy to use, easy to make, wax wraps help to reduce the amount of plastic in the home. ….for more info or to book.
Crochet your own Dish Cloth: Coming Soon.
Make Your Own Skincare Products: Experience the joy of making your own organic skin care products for healthier skin. ….for more info or to book.
Natural Hair-care & Medicinal Products: Coming Soon
Permaculture: Focuses on solutions for creating sustainable human settlements – it covers design skills, systems thinking, food growing, building design and community strategies, as well as small scale agricultural practices, animal husbandry, efficient water use and alternative energy sources.  ….for more info or to book.
Spring Preparation: Coming Soon.
Sustainability & Self Sufficiency Info Session: This information session describes one way to trend more lightly on this earth. It is also a healthy way to live for you and your family. ….for more info or to book.
Farming Democracy and Food sovereignty
What does it take to build a better food system from the ground up?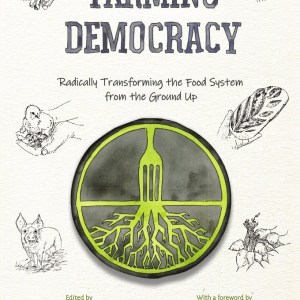 Last year, the Australian Food Sovereignty Alliance set out to create a book telling the stories of farmers who are making change in the food system. With the support of the food sovereignty community and contributions from 8 diverse small-scale farmers across Australia, we published Farming Democracy: Radically Transforming the Food System from the Ground Up. 
The book shines a light on the real value – and costs – of growing food that is good for farmers, land, animals, and communities. It is a book for those on the land, those aspiring to farm, and those simply wanting to know more about alternatives to the industrialised corporate agricultural system. We hope it will inspire more people to join the food sovereignty movement, and provide practical insights for those interested in small-scale and agroecological farming. The stories offer a great insight into the opportunities and challenges of regenerative farming in Australia, for those already on the land or wanting to know more about alternatives to the industrial food system. An inspiring and revealing read for farmers, aspiring farmers, and eaters alike!
The Australian Food Sovereignty Alliance are keen to share Farming Democracy with other supporters of good food, to celebrate the work of these change-making farmers and to help AFSA support more small-scale and regenerative farmers around Australia. The book is available from the AFSA website at https://afsa.org.au/afsa-merch/ in eBook and paperback format.
We will also be organising author talks and panel discussions around the book at various venues in the coming months, so if you're interested in having a more in-depth chat about Farming Democracy at your place contact  admin@afsa.org.au .
"Few vocations are as foundational to civilization as farming.  Few vocations can destroy civilization as fast as farming… We all need to immerse ourselves in the stories of those who dare to follow a different trajectory that benefits the soil, the people, and the planet. ( Joel Salatin, Polyface Farms)
A poem from the road- Bob Brown Stop Adani Convoy
Castlemaine resident and climate activist, Trevor Scott, lent his support to the Stop Adani Convoy in May this year. His poem, Ballad of the Stop Adani Convoy is inspired by that journey. Thanks to Hepburn Springs resident, Brenna Quinlan, another member convoy, for her images below- https://www.instagram.com/brenna_quinlan/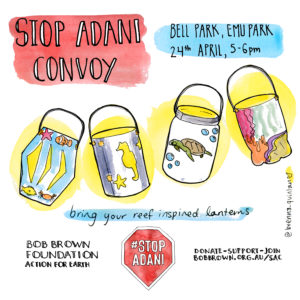 'Politicians asleep at the wheel
Queensland ministers doing dirty deals
A river piled high with a thousand dead fish
But a safe climate for all, that's our only wish.
So in Paris 2015 our leaders did agree
They'd put a stop to warming, one and a half a degree
But corrupt politicians set light to the fire
"Digging up coal is what we desire!"
It's 40 long years since the Franklin flowed free
And we give thanks to Bob for he saved it you see.
But the fight for the bush had not gone away
This time it was coal miners that he had to sway.
It was 2019 and Bob Brown couldn't sleep
He'd heard of Adani and a coal mine so deep.
He'd had quite enough of this coal mining farce
So he dreamed up a convoy with a long line of cars.
On 17th April it left Hobart town
And a vanguard of Teslas would not slow it down
Across Bass Strait with the help of the ferry
In Melbourne they stopped and those drivers made merry
North via Albury to 'ol Sydney town
Then onwards to Byron where more cars it found
With red flags a'fluttering and singing a song
They gathered in Mullumbimby, 5,000 strong
Now Bob spoke so often he got a sore throat
"It's the climate election, you know how to vote".
So on to Brisbane and Emu Park
We drove through the daytime and camped in the dark
North to Airlie Beach and the town of Mackay
Then we headed west to give Clermont a try.
Now the people of Clermont they'd heard about Bob
"You're not welcome here with your violent mob"
Now Bob said violence is not our way
But I'll put up the bond, I'm happy to pay
So the foundation it paid 25 grand in trust
I'm happy said Bob as long as it's just.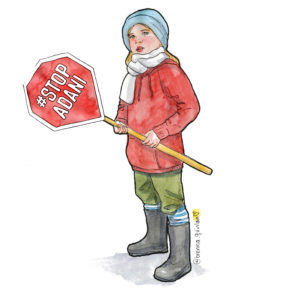 Soon we arrived in this coal miner town
And the travellers were all threatened as they drove down
The townsfolk they closed their doors to us all
The shops were all closed "don't bother to call!".
In the pub the next day, politicians walked the floor
"There's free drinks for you all, if you'll even the score!"
In the showground we gather'd for the water dream time
With the First Nations people we'd happ'ly align
It was a beautiful thing without a word of a lie
'Til in rode a horseman with a wild threatening cry.
His actions said "danger" and the crowd was alarm'd
People gathered up children to keep them from harm
Now our Robyn she thought if I could just close the gate
I maybe could trap him, but it was all too late.
The horse it reared high and filled us with fear
And in the next moment we all shed a tear
While Robyn lay injured on the ground
The horseman escaped he could not be found.
He rode out of the ground but he didn't get far
The police they caught him, he was soon behind bars.
Saddened and sorry we left Clermont behind
The convoy moved southward more safe ground to find
Thankfully the news of Robyn was good
She'd make it through as we'd hoped she would.
The horseman was charged, he would soon face the law
Their plan had backfired, of that we were sure.
The convoy divided but kept on it's route
There were cars and caravans and the odd ute
South to Toowoomba and the town Armidale
Where they served us breakfast while we told our tale.
On we drove to our capital town
And in Canberra 'twas the parliament we drove aroun'
And on Capital Hill after only one sleep
The biggest rally yet was laid at our feet.
Bob spoke so boldly, Richard Flanagan too
Even the children's words, they really rang true
Then it was Paul Kelly before too long
Ended the rally with yet another great song'.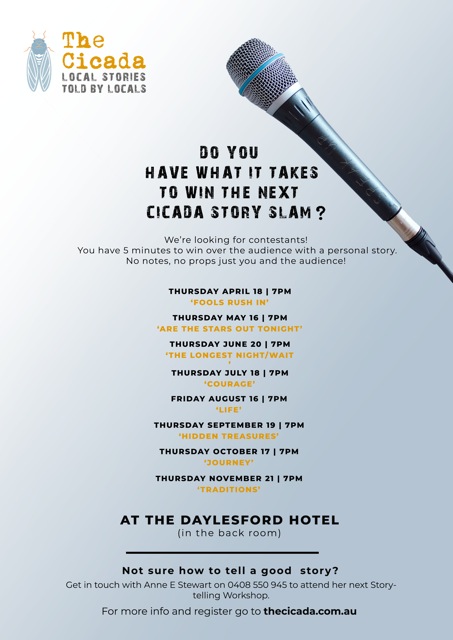 Interested in biodiversity data?
Connecting Country is sharing bird and mammal data so it can be useful to all. The Victorian Biodiversity Atlas (VBA) is a web-based information system designed to manage information about native and species present in Victoria. The VBA species observations are a foundation dataset that feeds into many biodiversity tools used in the Department of Environment, Land, Water and Planning's everyday decision making. It shows where wildlife is now and how this has changed over time. It provides a core input to government processes, decisions and programs that impact native species.
Connecting Country is looking for a volunteer biodiversity data officer to coordinate the significant task of entering Connecting Country's historic data sets into the Victorian Biodiversity Atlas.  Entry of fauna records into the VBA is an essential part of Connecting Country's ongoing efforts towards habitat enhancement and healthy environments in the Mount Alexander Region. Adding records to the VBA is also a way to influence a range of government investment, regulation and management decisions. Please click here to see the position description for this role, or feel free to contact jess@connectingcountry.org.au  for more information.
Eucalypt Photo competition
Eucalypts are the iconic tree of the Australian continent. They are the foundation of many Australian ecosystems and also underpin important industries. Since European settlement many Eucalypt species have declined dramatically.
A river red gum (Eucalyptus camaldulensis) at Simpsons Gap, Northern Territory (photo by Jaana Dielenberg
The Threatened Species Recovery Hub is undertaking a nation-wide assessment of the conservation status of Australian eucalypt, which includes the genera Eucalyptus, Corymbia and Angophora. The assessment will help conservation managers to understand which species are at risk and will also underpin a national conservation action plan for Australian eucalypts.
Yellow Gum (Eucalyptus leucoxylon) is one of our local eucalypts worthy of a photo. Mass flowering of this species is still continuing across our region, and it makes a stunning specimen to photograph for its smooth yellowish bark (sometimes rough at the base) and well formed shapely buds in threes.
To mark this significant milestone in eucalypt conservation the hub is holding a photo competition to celebrate the beauty and diversity of Australia's eucalypts. We are looking for submissions in three categories: Trees, Flowers and nuts, and Features (bark, foliage or anything else of artistic merit). The best photos will be included in the National Action Plan for Australian Eucalypts, an online photo exhibition and in other materials that promote the findings of the assessment and the national action plan.
To submit entries and for more information:
Visit: Threatened Species Hub Eucalypt Competition http://www.nespthreatenedspecies.edu.au/news/eucalypt-photo-competition
Email: Teghan Collingwood (t.collingwood@uq.edu.au)
Competition closes: Monday 22 July 2019, with winners notified in late July.
Food for thought