"I can live with doubt and uncertainty and not knowing. I think it is much more interesting to live not knowing than to have answers that might be wrong. If we will only allow that, as we progress, we remain unsure, we will leave opportunities for alternatives. We will not become enthusiastic for the fact, the knowledge, the absolute truth of the day, but remain always uncertain … In order to make progress, one must leave the door to the unknown ajar."
Richard P. Feynman- (https://integrallife.com/inhabit-your-uncertainty)
This March e-news is brief as many activities and events have been cancelled or postponed due to corona virus, including the Local Lives Global Matters Convergence 2020.
Outdoor community food markets remain open for the time being including Wesley Hill, Daylesford Sunday market and Castlemaine weekly farmers market. In addition there are several outdoor, arms-length and on line events worth thinking about. These include:
A local Arms-Length Yarn Up at Castlemaine- building community networks & support;

Trace Balla's Book Launch

– Landing with Wings
Arts Open Exhibitions in Mt Alexander Shire, including at Lot 19;
Walking Together Project– Balak Kalik Manya

Going Local – Hope in  a Time of Crisis

–  webinar

Writing for Reconciliation Project

2020
Food for Thought- Some reading and listening
Local Lives Global Matters Convergence postponed & an Arms Length Yarn Up- building community networks
Given current circumstances with COVID-19, the Local Loves Global Matters Convergence has been postponed until Spring.
However we are planning an Arm's Length Yarn Up to talk about ways to build community networks and support during this unprecedented time of social distancing and isolation.
What: An Arms Length Yarn Up- Building community networks and support
When: Saturday March 25th, 1.00pm
Where: Botanical Gardens, Castlemaine, along side Tea Rooms
We encourage people to come along to Trace Balla's book launch from 11am on Saturday the 28th at the Botanic Gardens Tea Rooms – this is still happening, but has been moved outside!
And then please stick around or come along for an Arms Length Yarn Up from 1pm to talk about building community networks and support, and share ideas and resources for how to look after each other over the coming weeks and months.
If you are unable or unwilling to come to a face to face gathering even at arms length, we are hoping to include a virtual component via zoom. Please email Emma via emma.king4@gmail.com if you'd like to join us virtually and she will let you know if and how this is happening.
We will be in touch again as the situation regarding meetings unfolds.
Landing with Wings book launch -Trace Balla
Where:  An outdoor event alongside Castlemaine Botanical Gardens Tea Rooms, 2 Walker Street
When: Saturday 28th March from 11am
For more information: traceballa@yahoo.com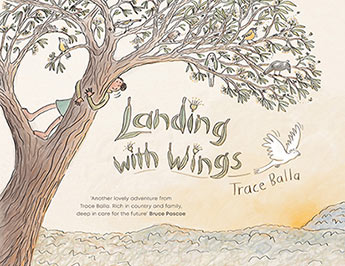 Come along to the launch of Trace Balla's latest book — Landing With Wings — set right here on Dja Dja Wurrung Country. Trace is the creator of Rivertime and Rockhopping, The Thank You Dish and Shine.
Now here's a story "rich in country and family, deep in care for our future" Bruce Pascoe. "I feel like I've made a new friend through Trace's exquisitely accessible drawings and gentle prose", Alison Lester.11am book signing and sales- cash only
11.30 Welcome to Country with Uncle Rick Nelson, followed by talks and behind the scene slide show. Frances Cincotta of Newstead Natives nursery will speak. Then linger for a picnic — Cycle-safe Mount Alexander will be there with juice bike and info about local rides and activities. Have a go on the kids tandem bikes, or sit under a tree reading your new book!
Walking Together – Balak Kalik Manya project
The Dja Dja Wurrung Clans Aboriginal Corporation have issued the first exciting edition of a newsletter update for the latest happenings within the Walking Together – Balak Kalik Manya Project. It's great to hear about their recent cultural and ecological survey work in Kalimna Park, right next to the town of Castlemaine .
The Walking Together- Balak Kalik Manya Project is a four-year project committed to writing site-specific management plans for two sites within Dja Dja Wurrung Country: Kalimna Park in Castlemaine and Wildflower Drive in Bendigo. Both sites have been selected because of their proximity to growing townships and the increasing pressures of urbanisation slowly encroaching closer and closer to these park boundaries. The project is focusing on how we can increase community connection with nature, improve visitation rates and encourage healthy use of these sites, all while maintaining and improving biodiversity. The project will promote Djaara employment and assist in Djaara reconnecting with traditional practices of land management.
To read the newsletter – click here
For further information, please contact:
Harley Douglas
Dhelkunya Dja Project Officer – Djandak
Dja Dja Wurrung Clans Aboriginal Corporation
Phone: 03 5444 2888
Email: harley.douglas@djadjawurrung.com.au
For more information on the Dja Dja Wurrung Clans Aboriginal Corporation, please visit their website – click here
Thanks to Connecting Country for providing this information.
You are invited to support the Nalderun Upper Loddon Writing for Reconciliation Project. Winners to be announced during Reconciliation Week 2020.
There are six categories: Primary School (Aboriginal)
Primary School (other Australian)
Secondary School (Aboriginal)
Secondary School (other Australian)
Adult (Aboriginal)
Adult (other Australian)
The Theme for Reconciliation Week this year is IN THIS TOGETHER
Your writing may take any form but must be less than 1000 words.
All entries must be delivered to Castlemaine Community House Friday 24th April.
Want more information or inspiration? You are welcome to attend an Information and Workshop Evening at Castlemaine Community House on Tuesday 24th March at 7pm. At this workshop we will explore the Theme, the Components of Writing, create your plan and munch on some lovely bush tucker inspired food supplied by Murnong Mummas.
**Bookings are essential for this Workshop and should be made through Castlemaine Community House (03) 5472 4842 or reception@cch.org.au
Enquiries: Kerin 0438 571 137 kerinb@y7mail.com
Tony 0447 900 616 coolibaz1951@live.com
Aunty Julie 0427 742410 jmchale57@outlook.com
Food for Thought
(https://integrallife.com/inhabit-your-uncertainty/?)
Right to Repair Article
https://www.yourlifechoices.com.au/technology/gadgets/why-repair-is-not-a-dirty-word?