Taking political power at a local level,
then using it to enable people to have a greater say
in the decisions that affect their lives.
(from 'Flatpack democracy'- Frome, Somerset, UK)
***
The March e-news includes information about:
our next community conversation–How can we do democracy better? – March 21st
Central Vic Climate Action- Stop Adani fundraising
Castlemaine Repair Cafe
Growing Abundance Harvest time
Deborah Cheetham at Hepburn International Women's Day event

Political economy of housing

and real estate- in film
Mount Alexander Eco-housing Group
Living the change film night- Daylesford
Upcoming community conversation
Localising Leanganook and Democracy4Dinner invite you to join our upcoming 'conversation on democracy'  prompted by Richard Walsh's book, 'Reboot: A Democracy Makeover to Empower Australia's Voters'. Richard will share his vision for a 'better democracy' that will increase participation, engagement, and direct representation through a redesign of the electoral system.
Locals Gen Barlow and Cam Walker will help us understand how alternative approaches to democracy and democratic processes already do, and can further, enhance the power of the people to create lasting change in Australia and here in our local communities. They will share their experience on community-led transformative change and explore how alternative democratic processes would interact with the changes proposed in the book 'Reboot'.
There will be plenty of time for asking questions that explore what a successful democracy might look like and how we might get there, as well as for conversation afterwards.
About our speakers
Interstate guest, Richard Walsh, is an Australian publisher, editor, company director, media consultant, lecturer, broadcaster and journalist. He is the author of nine books including 'Great Australian eulogies' and 'No Holts barred'. His latest book, 'Reboot: A Democracy Makeover to Empower Australia's Voters', is the inspiration for this community conversation.
Gen Barlow is the communications and engagement director with Renewable Newstead, a group working on a commercially viable model for switching Newstead's stationary energy supply to grid-connected, locally generated, renewable energy. Genevieve is a freelance writer and editor, a columnist for The Weekly Times and lives in Newstead, central Victoria. Read more about Renewable Newstead here.
Cam Walker has worked with Friends of the Earth (FoE) for more than 2 decades. For the past five years he has focused on community campaigning in regional Victoria. The recent successful campaigns against unconventional gas drilling and in support of renewable energy were based on building local democratic grassroots institutions and community power. Cam is interested in the way locally controlled groups can work together across regions to achieve lasting political and cultural change.
Have a look at flatpack democracy in the UK to inspire your thinking. 
Stop Adani

local campaign, film and fundraising
From Central Victoria to the Adani Blockade people from across Australia are traveling to Bowen in central Queensland to blockade Adani's coal port and railway plans. These actions have added to the growing pressure on Adani and its supporters. They demonstrate that as a movement we will Stop Adani, with our bodies if needed. Central Victoria Climate Action are planning to send a crew from Central Victoria up to join the blockade in April. Here's your chance to Stop Adani!
If you can donate your time to join them, we are fundraising to cover some of the costs for those going. We are aiming to raise $5000, some of which will go to help defray the costs of those donating their time and heading up to join the blockade, and the rest used to support FLAC who are running the blockade camps.
Ways you can support include:
The 30 minute documentary film, #StopAdani: A Mighty Force, was screened last Saturday night to a crowd of locals. The film was followed by Q and A with one of the young people who has spent the past several months at the blockade. CVCA is thinking about organising another screening for those who missed out, so watch this space and add you name to the CVCA email list.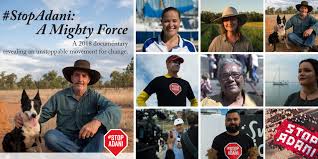 The film reveals an unstoppable movement for change in action and captures the power and passion of people taking extraordinary action to stop Adani from building one of the biggest coal mines in the world.From remote central Queensland where the mine is proposed to be built, to rallies in metropolitan Melbourne and Sydney, this David and Goliath battle is one of the most determined and focused campaigns in Australia's recent history.
Juru Traditional Elder Carol Prior says about the protest movement, "Adani is dealing with a mighty force. And the more it grows, the harder we'll be to beat."
Castlemaine
Repair cafe
Congratulations to Chris and the Repair cafe team for their special mention in Mt Alexander's Community Event of the year award.
Of the February cafe Chris writes: What a fantastic Cafe. So many people….thank you so much to the repairers working away for all that time with crowds of people waiting (including) fabulous knife sharpening. And thanks to Karen and Danny who travel around to Repair Cafes helping to fix things. They're from Mend it Melton at the moment but eventually venturing around Australia. Thanks to Velvet for her wonderful food and Elke for helping set up.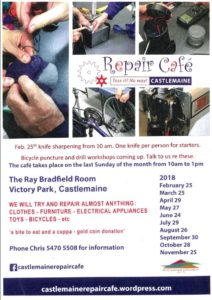 A puncture repair workshop is planned for the March cafe so put the word out amongst kids and adults who'd like to learn.  Marieanne does picture frame repairs so spread the word.
Unrepairable things such as printers, stereos etc can go to an after school program in Kyneton and then parts/bits go to the transfer station there. Chris is also checking with Chewton primary school.
Next Repair Cafe is 10.00am to 1.00pm, Sunday March 25th at Ray Bradfield room, Castlemaine.
Growing Abundance
Harvest
time
It's harvest time again for 2018 and the first harvest of the season will be Wednesday March 6th at 9.30am. There are plenty of trees in the Castlemaine neighbourhood with hanging fruit. Take home apples and pears, prevent the spread of pest and disease to our fruit trees and help our schools and  local food relief organisations feed our community.
Since the harvest project began in 2011 over 23 tonne of fruit, that would have otherwise gone to waste, has been harvested and distributed to volunteers and in weekly boxes to more than 14 local community organisations.
Register your interest through Growing Abundance website, harvest volunteer on-line form.
Deborah Cheetham

– Hepburn Shire International Women's Day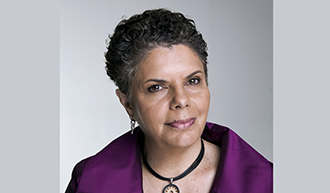 Deborah Cheetham, Yorta Yorta woman, Soprano, composer and educator has been a leader and pioneer in the Australian arts landscape for more than 25 years.
Date:          Thursday 8 March 2018
Time:         6 pm
Venue:      Daylesford Town Hall – 76 Vincent Street, Daylesford
Come along and celebrate International Women's Day in Hepburn Shire. Light refreshments will be available at the conclusion of the event.
Political economy of housing

and real estate- in film

Warwick Smith's presentation in February generated hearty conversation. Warwick touched on the way land and capital became joined in neo-classical economics; contributions which government policy,  demand and investment make towards pushing land prices up; changes brought about by 1970's oil shocks; banks as the greatest beneficiaries of the housing boom; alternative land and housing systems in other countries around the world; nationalising land; submissions prepared by the think tank Per Capita towards a more equitable housing system; and much more.

If you missed the community conversation here's a link to Warwick's talk, filmed by People Pictures, which is also available via Localising Leanganook's food for thought tab.
Mt Alexander
Eco Housing
Next meeting
Monday 7.30pm 19 March

Trades Hall Castlemaine

127 Mostyn St

Louise Johnston, Coordinator Statutory Planning at the Mount Alexander Shire Council, will speak to queries about establishing ecohousing, especially eco-collaborative housing, and about associated planning provisions and guidelines



​Please submit question(s) beforehand, by COB Wednesday 14 March, by email to

anitra.nelson@rmit.edu.au 

Try to make queries short and sharp.
At the February MAEG meeting Sue Robinson talked about the 15-member strong aspiring Older Women's (over-50s) Cohousing Group she belongs too, who are narrowing down land to purchase in Central Victoria, specifically Daylesford or Castlemaine. Their vision is for ownership and social housing tenants and to include 'shared beautiful spaces, vegetable gardens and landscaping as well as private gardens' and 'to be constantly improving' their natural environs; a range of private dwellings and common facilities that are flexible, affordable, accessible, have an 8+ Star rating and measure up to the Living Building Challenge environmental sustainability principles; with common guest rooms, workshops community houses, chooks and so on. They emphasise values of sharing, tolerance and respect and aspire to be a strong and resilient model of cohousing. They are a vibrant hardworking group who have been meeting regularly since last year.

Prue and Digby introduced 'GEMS' (Group of Elders who are Mutually Supportive). GEMS started with a focus on cohousing but are taking the immediately achievable step of creating a community in which their group of 60+ year olds 'are committed, first and foremost, to helping others in the group to live happy, satisfying, lives'.

Tiny Non Profit (tiny.org.au), an advocacy group for (more) tiny homes in Australia, collect all the latest council developments happening globally bringing about changes to land zoning and building codes. They are conducting a pilot study for the first Australian tiny house safety certification and are setting up the Australian Tiny House Association. We will be putting on a tiny house event in Melbourne CBD in May (event details under embargo at the moment). Tiny Non Profit (tiny.org.au) newsletter has updates on the Australian tiny house movement.

Living the Change

film night- Daylesford – March 29th

Followed by Q and A afterwards with the film makers.

************************