When: October 2nd – 22nd- OPEN WEEKENDS 11 – 3 or by appointment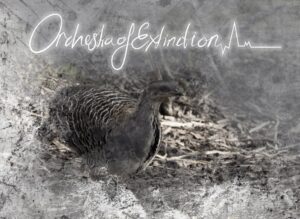 ORCHESTRA OF EXTINCTION: Artists- Forest Keegel and Amanda King
Orchestra of Extinction is a contemporary interpretation of a Cabinet of Curiosities that highlights extinction and the vulnerability of threatened species. Conceived in 2014 by Forest Keegel and Amanda King as a decade long project, in which they do annual residencies in threatened species habitat. Where they record sound and video to emanate from old radiogram cabinets that are encrusted with residues of habitat, such as varnish made from plant saps and local beeswax. Each of these cabinets become an archive for a particular species forming a record of what King and Keegel have learnt about them through research, time walking and recording in their habitat and speaking with scientists and local experts. They never imagined koala would be added to the list or that the perils and threats to the biosphere would become so severe so rapidly.
Orchestra of Extinction watch video
CONFLUENCE: Artists- Amanda King, Forest Keegel, Simon Dow.
Reflections of Country. A photo based installation.
For more information: info@edgegalleries.com; Instagram @edgegalleries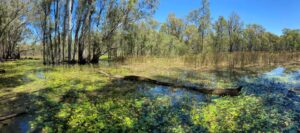 % full at end September 2022 
Cairn Curran Reservoir-  97.35%
Tullaroop Reservoir-  101.17
Laanecoorie Reservoir –  108.69
Newlyn Reservoir – 101.55
Hepburn Lagoon 105.40
Lake Eppalock – 98.52
Upper Coliban Reservoir – 101.30
Lauriston Reservoir –  95.60
Malmsbury Reservoir –  115.40
Source: North Central Catchment Management Authority: https://www.nccma.vic.gov.au
38. Cloth Nappy Workshop
Hepburn shire Council is running a waste education initiative focused on cloth nappies.
A workshop was held in mid September but if you missed that, get in touch with Isabelle Hally, Waste Education Officer:
Phone: 0353216127 • Email: ihally@hepburn.vic.gov.au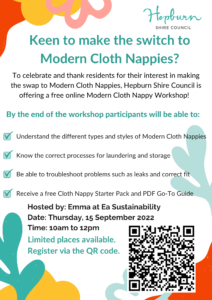 39. Changes to Australia's fire danger ratings
Victoria's fire danger rating have changed and signs are now being replaced. Here's the news ratings and signage.

40. Goldfields  Library-Castlemaine- What's On

Read Now at Castlemaine Library
The Read Now collection at Castlemaine Library is a collection of books that you'd find if you walked into any book store right now – available to borrow with no waiting times! New titles are added every month, and we rotate the collection to keep it fresh and super up-to-date. There are multiple copies of each title, so you get them in your hands even quicker!
You can still borrow them for three weeks, but they can't be reserved – so when they come back, they go straight on the shelf waiting for you to take them home.
Book Reviews
Have you read something really great recently? Want to share it?
Send us an email with a short review and we'll include it in our next newsletter – everyone loves a good recommendation
For more library information: www.ncgrl.vic.gov.au/events
Check out the library's latest What's On program.
41. Newstead Solar Farm Getting Closer
LOCAL ENERGY FROM RENEWABLE NEWSTEAD'S SOLAR FARM – A project to generate local energy that's renewable and competitively priced.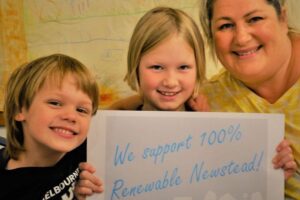 Renewable Newstead held an information session about their planned solar farm in September. In partnership with electrical retailer FLOW it is anticipated that the local grid connected solar farm, providing 100% renewable energy, will be switched on around mid-2023. Residents of Newstead and surrounding towns and hamlets are eligible to sign up. You can also register to receive updated information. After jumping a bunch of hurdles, Renewable Newstead is now on the home straight to getting this solar farm built and for it to start generating 100% green energy for Newstead and surrounds. You can't quite sign up yet. As soon as our partner Flow Power has their retail billing system ready we'll let you know and then you can elect to be an early adopter.
Meanwhile keep watching for updates on our website at: www.renewablenewstead.com.au
And for more information, check out our FAQs page at:www.renewablenewstead.com.au/faqs/
42. Rain, Cairncurran Reservoir and Birdlife
Natural Newstead's blog is an inspiring source of information about birds, flora and other wildlife, posted by Geoff Park and with occasional posts from Patrick Kavanagh. Extracts from the blog below, posted at the end of August, show one of our precious waterways and birds making the most of this wet season.
With some good rains, soaked soil our waterways are flowing beautifully. Cairn Curran Reservoir has come up significantly. A kayak trip upstream from the bridge on the Pyrenees Highway on the weekend was pure delight.
A group of Australian Pelicans (Pelecanus conspicullatus) were hanging around the lower reaches near the bridge. The can be few sights as magnificent as watching these birds in flight.
On a branch of one of the old, dead River Red Gums that line the main channel of Joyce's Creek (now well under water) a Royal Spoonbill (Platalea regia) rested.
Ducks were abundant further up the creek, especially Pacific Black Ducks (Anas superciliosa) and Grey Teals (Anas castanea).
Long-billed Corellas were also around in big numbers, some of them checking out hollows in the dead trunks and branches.
There were a few Whistling Kites (Haliastur sphenurus) around, patrolling for fish or whatever else they could snatch off the water. Below the Kite's roosting spot, Welcome Swallows (Hirundo neoxena) rested between sorties to hawk small insects above the water.
A few kilometres upstream from the bridge, there was a great abundance of Straw-necked Ibis (Threskornis spinicollis) and a few Black Swans (Cygnus atratus).
43. Bendigo Climate Alliance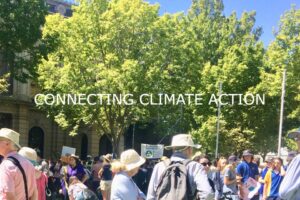 Bendigo Climate Alliance aims to connect, support and promote community groups, organisations and businesses in Bendigo that are actively working to combat the climate emergency.'
Bendigo Climate Alliance is organising
a calendar of events to celebrate what is happening in Bendigo and encourage people to join in the action to address climate change at the local level. You can view the calendar on the website or facebook page: https://www.bendigoclimatealliance.au  
 For further Information:
Elsie L'Huillier,
Commoners Co-op
44. WALKING TOGETHER –A Journey Towards Solidarity 
Janet Phillips
I would like to Acknowledge the Traditional Custodians, Elders past, present and future of Djaara Country, on which I write this. I also Acknowledge other Aboriginal and Torres Strait Islander people who live on this land, or who are reading this. I was born on GunaiKurnai Country, my ancestors are primarily of English origin and my two sons were born on Djaara Country.
I think my journey of solidarity really started in the early 1990's, when with friends we became early supporters of the Pay the Rent campaign, and we were invited to join in on Invasion Day commemorations. We dressed up as convicts, went aboard a tall ship in Port Philip Bay, launched a longboat and landed on St. Kilda Beach. We were met there by local Boon Wurrung and Wurundjeri people, spears at the ready. Our (role-playing) Commander kindly requested and was given permission to come ashore, where we were warmly welcomed by local people. As newcomers, we signed a pledge to honour this Country and the people of this Land.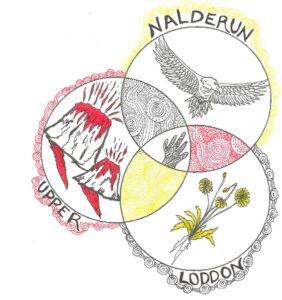 On moving to Djaara Country in the mid 90's, local treasure Vic Say introduced me to Reconciliation Learning Circles, a self-directed exploration of Aboriginal and Torres Strait Islander culture and history, of colonisation and the impacts of racism on our countrymen and women. As a small group at Castlemaine Community House, we created a safe space to challenge one another and to learn what Reconciliation could actually mean for us. One community activity our group initiated was a Women's Story-telling Day. We invited local female Aboriginal Elders to share their stories with us as together we created a large wall hanging to represent our connection to Country, local lore and people. It was displayed in Green Goes the Grocer for many years.
In the early 2000's my sons were in the Community Class (a multi-age parent-guided classroom) at Winters Flat Primary School. We were very fortunate to have Elder Aunty Julie McHale as our Lead Teacher. Aunty Julie's generous offerings and teachings deepened our knowledge of local country and our connections to local Aboriginal and Torres Strait Islander people.
In 2012 our family took a year to travel through the Central Desert and Top End, finally arriving in Gapuwiyak, Northeast Arnhem Land NT. The boys enrolled in school and my partner and I took on community development roles. I later also developed another project where I mentor a local woman, Minay Wunungmurra, to manage a whole of community Nutrition and Wellbeing program. We have fun creating community events like Family Cooking Competitions and Women's Bush Camps, all underpinned by the ever-present nature of health issues in remote communities. Over these eight years Minay has become a respected local authority on Yolngu nutrition and is about to take on mentoring the program herself.
In 2019 I started work in Darwin developing a social enterprise that works side-by-side with remote Aboriginal Corporations to build both-ways capacity in social and human services delivery.  And now, I am back in Castlemaine, a member of the Friends of Nalderun and part of a group hosting Self Reflection Conversations in Castlemaine. These are facilitated conversations for those who wish to become a good ally to First Nations people, to reflect on white privilege, racism and de-colonisation.
I have found in my relationships and conversations with Aboriginal and Torres Strait Islander people, that an open hand is always extended; I always hear 'We can do this together, my sister'. I believe this open hand is linked to an open heart and an open mind and I aim to embrace this in my journey toward being a good ally. As we collectively move closer to enlivening the Uluru Statement from The Heart and making real Voice, Treaty, Truth, I invite you to consider how you too can become an ally. All you need to do is to start somewhere and follow it everywhere.
If you are interested in joining a Self-Reflection Conversation, please email: reflectionconversations@gmail.com
Nalderun Education Aboriginal Corporation is a service that supports the Aboriginal Community, led by Aboriginal people. Many people and organisations in the Mount Alexander Shire contribute to Nalderun; the name is a Djaara word meaning "all together".
More information can be found at www.nalderun.net.au
45. 1,000 Plants for Climate Change Resilience
During August Connecting Country has been creating 1,000 sturdy wire trees guards, laying out the plots, planting, and labelling 1,000 Silver Banksia (Banksia marginata) and Sweet Bursaria (Bursaria spinosa) to identify individuals and provenances most suited to survive in our changing climatic conditions.
Each plot has been carefully set out to allow tracking of each plant into the future.  Mixing up provenances within the plot will increase the likelihood they will share pollen between plants when they flower and reproduce. This sharing of this genetic information may help the plants adapt as our climate changes. Once the plants are established, monitoring will allow us to assess plant growth and success.
The two climate future plots are located near Castlemaine and Metcalfe, with one having 500 Sweet Bursaria and the other 500 Silver Banksia. Both are key species for our local woodlands and landscape.
We have sourced plants from a variety of provenances, from local populations as well as further away. We started by looking at the Bureau of Meteorology's climate predictions for our region, and selected seed from areas that are anticipated to match our predicted future local climate, focusing on areas that are hotter and drier. However, we also included seed from areas that are cooler and wetter. We aimed to include genetics from a wide range of environments, as we don't know what will be important in the future. There may be other genetic information stored within a particular provenance, such as the ability to survive insect attack or frost resilience, that plants from hotter and drier areas do not have. We then paired these climate predictions with species distribution and the availability of seed or plants, to make our final plant selection.
We will be holding a tour of the climate future plots over the coming year, once the plants are established.
500 Sweet Bursaria planted at the plot near Castlemaine (photo by Bonnie Humphreys)
46. Food for Thought
45. 1 Documentary- Sunday 16th October at 6pm with a Double Screening of Seed's Water is Life documentary and Frack Free Kimberleys' Fighting Giants followed by a panel of young First Nations people. Organised  by SEED- Indigenous Youth for Climate Action, at Cinema Nova Carlton .
46. 2 LISTEN: About how Adelaide's 'extinct' Indigenous language Kaurna was brought back to life after 100 years of barely being heard. (Thanks to Milkwood e-news)
46.3. Essay called Ancient Green. Moss, Climate, and Deep Time by Robin Wall Kimmerer for Emergence Magazine
46.4. Planet Local short film series- Our short film series -an inspirational collection of free-to-view films that feature local food and farming projects around the world — with a particular focus on projects started by young people.
46.5. Watch/Listen to Rufus Wainwright lead a huge choir in singing Leonard Cohen's "Hallelujah", from issue #67 of Dumbo Feather.  Watch
46.6

. Community libraries that lend things promote neighbourhood sharing and reduced consumption

https://www.abc.net.au/news/2022-09-25/libraries-of-things-bringing-back-neighbourhood/101469752

46.7 Water in the Landscape- a Dja Dja Wurrung perspective

Chain of Ponds installation with Aunty Nichols in Hargraeves Mall Bendigo

46.8 School-based solar and battery virtual power plant pilot kicks off in NSW
School-based solar and battery virtual power plant pilot kicks off in NSW
46.9. Repair With Heart – Making Fine Furniture From Foraged Urban Materials
Peter Owen kitted his home out with free things found discarded in city streets by foraging his local urban 'forest' – the streets and laneways of Sydney.