History is instructive. And what it suggests to people is that even if they do little things, if they walk on the picket line, if they join a vigil, if they write a letter to their local newspaper- anything they do, however small, becomes part of a much, much larger sort of flow of energy. And when enough people do enough things, however small they are, then change takes place.
HOWARD ZINN, interview, Raw Story, Sep. 9, 2005
Find out about the following in our September newsletter:
Declaring a climate emergency, global climate strike, & extinction rebellion;
Natural dyeing and braided rag rug workshops in Castlemaine;
Wild Fennel Herbs & Medicinal Plants in Daylesford;

Repair Cafes

around Central Victoria

;

Harcourt Organic Farm Co-op- milk, veggies, fruit & CSA;

Daylesford Podcast

;
Mt Alexander Eco Housing– tiny houses & housing for degrowth
Car-free Carnivale in Maldon;
Two new books- 'Housing for Degrowth' and 'Farming Democracy';
Housing Justice Forum

in Castlemaine;

October Culture Club in Daylesford;
Castlemaine Farmers Market– weekly;

Dictionary of Cosmo-Localisation

;
Banjo Jambouree in Guildford;
Chicks in the Sticks; 
Central Vic Climate Action- a funeral for 'Old King Coal';
Memory Workshops in Castlemaine;
Art of Facilitation training; 
Vocal Nosh in Newstead;

Cicada Story Slam

in Daylesford

;
Post-Carbon Institute webinar- Talking about climate to inspire action;
Food for Thought
Declaring a climate emergency, global climate strike, & extinction rebellion

Both Mt Alexander and Hepburn Shires have been asked by their communities to declare a climate emergency.
At the Hepburn Shire Council meeting this week councillors unanimously voted to declare a climate emergency. They were asked two questions:
1. The former NSW fire chief, Greg Mullins, recently said in relation to climate change, the horse has truly bolted. 50 fires were burning in NSW in the first week of spring and it's not even an El Nino year. 14,000 homes burnt in California last summer, 9,000 the year before. This new reality is upon us too. Hepburn Shire is rated as the second most fire prone region in the state. Does Hepburn Shire Council unanimously agree that there is a climate emergency?
2.For the sake of our children, future generations and for the sake of life itself, will Hepburn Shire Council stand with over 1,000 other councils around the world, representing over 222 million people, and formally declare a climate emergency?
According to witnesses it was an emotional Council meeting with all Councillors choosing to express their views on the climate emergency. Local residents are encouraged to email and congratulate ward councillors, to acknowledge measures already taken by Hepburn Shire to reduce carbon emissions, to encourage a climate action plan as well as engagement with the community to support entry into an emergency mode.
The Mount Alexander Climate Emergency Team  have prepared an online petition asking that their shire declare a climate emergency, commit to a target of 100% renewable energy for council operations by 2025, and commit to a target of net zero emissions for the community by by 2030. The petition is supported by Greenpeace. As of September 16th there were 943 signatures on the petition, mostly residents as well as some visitors to Mt Alexander Shire. Here is the link to the petition:  https://spark.greenpeace.org.au/petitions/mount-alexander-council-breakfree-from-fossil-fuels.
Leading scientists have warned that we have less than 12 years to take emergency action on climate change or we face the gravest threats to our local and the global environment. The climate emergency already surrounds us and adversely affects our lives in many ways – Global heating is a major factor in the droughts, floods, extreme weather, extending bushfires season, increasing air and water pollution, with an uncertain future for the precious Great Barrier Reef due to temperature rise and water pollution from land based runoff. This is an emergency and we must act now.
Globally, as of 13th September 2019, 800 cities and councils including 47 of Australia's 537 councils have declared climate emergencies to make an important contribution to addressing the climate crisis. Bold climate action can deliver new green jobs and economic benefits, retain vital biodiversity, and consequently improve the lives of current and future generations in our community and the whole world. By declaring a climate emergency, Shire Councils will demonstrate to their communities, State and Federal Governments the requirement for urgent action to restore a safe and healthy planet for ourselves and future generations.
Global Strike for Climate
Join thousands around the world this Friday September 20th – three days out from the UN's Emergency Climate Summit. Everyone is invited, everyone is needed. On March 15th, 1.6 million went on strike around the world. On September 20th, we're going to take our movement to the next level. If you're an adult, take the day off and invite your friends, workmates and families to join us.
When: 2-4pm, Friday September 20th
Where: Treasury Gardens Melbourne. There's gatherings in several central Vic locations including Ballarat, Bendigo and Castlemaine.
There are now over 100 strikes across Australia. including Castlemaine ( Market Building steps, 2-4pm) and Bendigo  (Library 2-4pm)
For more info on locations  outside Melbourne go to: https://www.schoolstrike4climate.com/sept20
Extinction Rebellion Groups start up throughout central Victoria including Castlemaine, Daylesford, Woodend & Ballarat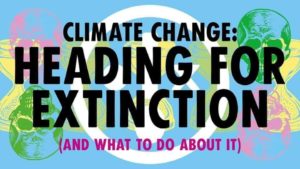 The UN Biodiversity Report says that we are in the middle of a 'climate and biodiversity emergency. Accordingly to Greenpeace research Around 1 million animal and plant species are threatened with extinction  including over a third of marine mammals and nearly a third of all sharks'.
Extinction Rebellion Australia aims to spark and sustain a spirit of creative rebellion, which will enable much needed changes in our political, economic and social landscape. We endeavour to mobilise and train organisers to skilfully open up space, so that communities can develop the tools they need to address Australia's deeply rooted problems. We work to transform our society into one that is compassionate, inclusive, sustainable, equitable and connected.
Natural dyeing & braided rag rug workshops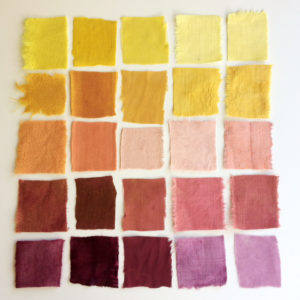 INTRODUCTION TO NATURAL DYEING
with Ilka White
Discover some of nature's hidden sources of colour!
Plants have been used to dye fibre and fabric for thousands of years and a beautiful natural palette is still available to you without the need for harmful chemicals. Local weeds or kitchen off-cuts can offer harmonious hues in a range of values and intensity.
This hands-on workshop introduces a selection of local colour possibilities, as well as discussing fibre types, mordanting options and safety of dyes. A shibori technique will also be used to produce patterned cloth.
BRAIDED RAG RUGS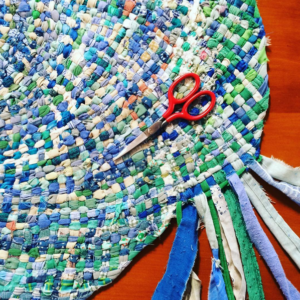 Learn to make fantastic rag rugs using a no-sew, off-loom, spiral-woven braiding technique.We share an inspiring range of colour and design possibilities in this one day workshop. Beautiful and unique floor coverings are possible using contrasting colours, or you can blend patterned rags for a 'carpet of flowers'. This braiding technique weaves in as we go so there is no stitching up required afterwards. Bring your own material to recycle and find out what riches can come from rags.
Castlemaine :  Sunday 22 September, West End Hall
Wild Fennel- herbs and medicinal plants
When: Saturday 21st September, 9.30am -12.30pm
Where: Senior Citizen's Kitchen, rear Daylesford Town Hall
A free event and everyone is welcome.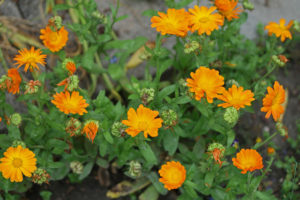 Come and join the first Wild Fennel gathering this coming Saturday, and thereafter on the third Saturday morning of each month – a chance to work with our herbal allies. The session will focus on:
an introduction to harvesting, processing and storing herbs;
a look at the foundational actions and how to use our physical senses to discern medicinal properties of plants;
a closer look at calendula; medicinal actions, uses and how to make a calendula infused oil.
Each month, under the tutelage of herbalist Rosie Cooper, Wild Fennel will look at different aspects of herbal medicine and focus on a particular plant, with the intention of reclaiming herbal medicine as an accessible mode of healthcare for ourselves and our community to bring us into closer connection with the land and plants where we live.
Please bring pen and paper to take notes, and any herbs, plants, seeds or homemade remedies you would like to share at the end of the workshop
For those on FB, here is the link to the Wild Fennel group:
www.facebook.com/Wild-Fennel-Hepburn-Shire-Community-Herb-Group-103437367707758
Repair Cafes around central Victoria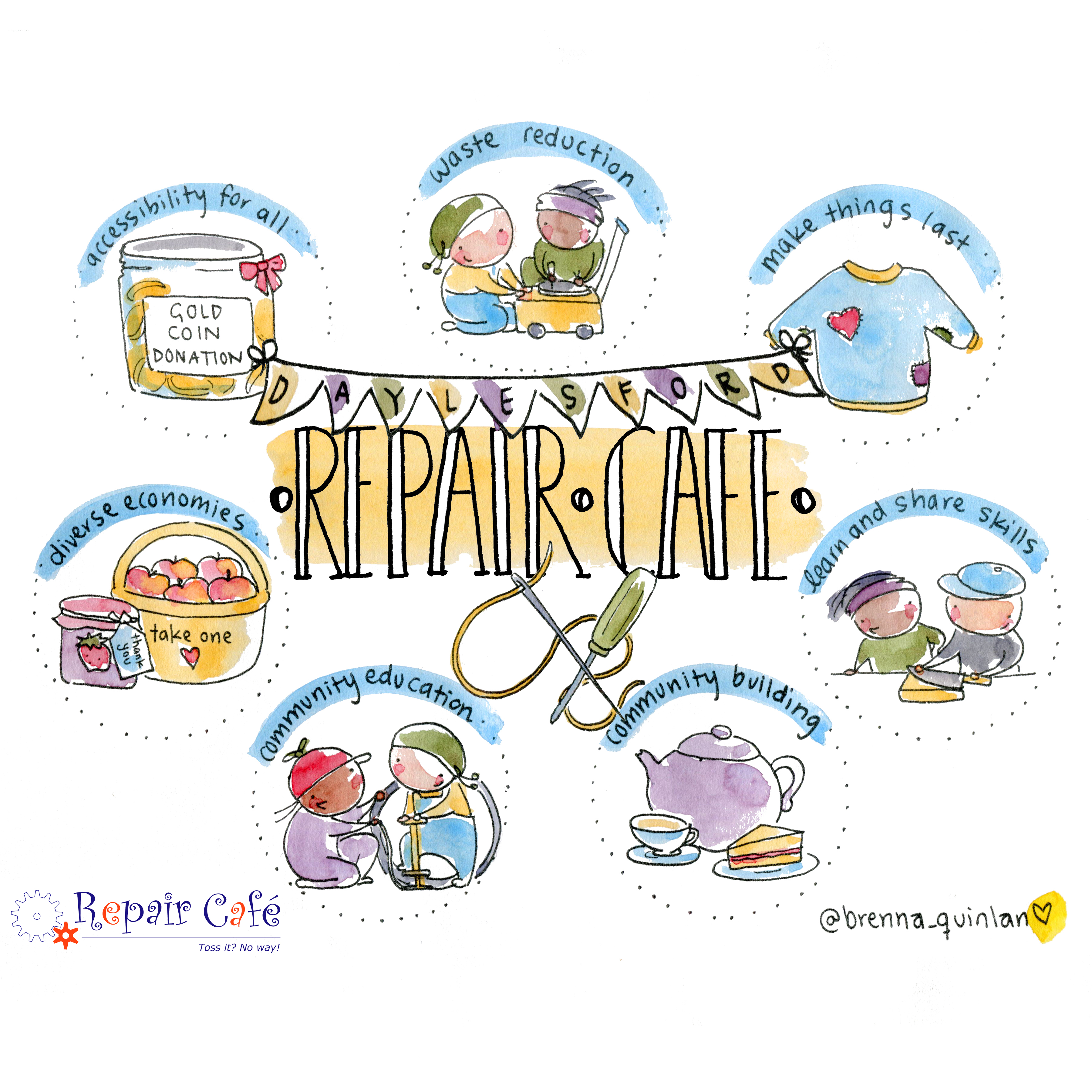 Brenna Quinlan's Repair Cafe graphic (above) finds its way into the 2020 Permaculture Calendar
Repair Cafes for September and October
Castlemaine- Sunday September 29th, 10am-1pm at the Town Hall.
Daylesford- Sunday October 20th, 1-4pm at Victoria Park Pavillion.
Woodend – Saturday October 5th, 10am at the Neighbourhood House.
Bendigo – Saturday September 21st, 11am at the old church on the hill.
Ballarat – Saturday September 28th, Ballarat Tech School, SMB Campus, Building K, 136 Albert St
Here's an article worth reading from the Fifth Estate: https://www.thefifthestate.com.au/waste/the-rise-of-the-repairers-is-subversivebut-excellent-news/
Harcourt Organic Farm Cooperative
There's milk, fruit, veggies, fruit trees and community supported agriculture.
Sellar Farmhouse Creamery products are nearly here. Selling will be by Community Supported Agriculture (CSA) subscriptions, at local markets and through the on-farm shop. You can put your name down for the milk waiting list and blog updates on the website.
Tellurian Fruit Gardens-  CSA shares are open for previous and new members. Keep an eye on the TFG newsletter or social media for a reminder. New Delivery Hubs will include Maldon, Newstead and Woodend this year and need to reach a critical mass for them to go ahead. If you'd like to join one of these new hubs, order your CSA Share from 12 Sept and encourage friends to jump on the bandwagon too!
Gung Hoe Growers Products- Our weekly veggie boxes go into hibernation over winter, but in spring subscriptions will come up for grabs again. In the meantime you can eat our produce at the local cafes and restaurants who support us all year. They are: Red Hill Hotel, The Bridge Hotel, Lola Bistro, Red Beards Bakery, Masons (Bendigo), Goldmines Hotel (Bendigo), Togs and The Fig Cafe.  If you have any queries about our produce, contact us by email on gunghoegrowers@gmail.com
Weekly producers market in Castlemaine – this is an offshoot of the Castlemaine Farmers Market) starting on November 6th. For more information see below.
Daylesford Podcast
The Daylesford Podcast is up and running, hosted by Jarrod Pickford, including events, people and stories from around the Hepburn community. New episodes are available weekly, every Friday morning. The most recent podcast focuses on Sustainable Open House day. http://www.daylesfordpodcast.com/
Mt Alexander Eco Housing– tiny houses & housing for degrowth
When: 7pm Wednesday 25th September
Where: Ray Bradfield Room, Castlemaine

Come and hear two speakers:  Jan Stewart from the Australian Tiny House Association will speak about tiny houses. In addition Anitra Nelson will share findings from her recent overseas trip focused around housing and degrowth.
Car-free Carnivale in Maldon
When: Sunday 22nd September, 12 noon-3pm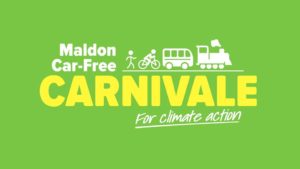 Where: Maldon Main Street
Held to coincide with World Car Free Day, the Carnivale will take over Maldon's main street, transforming the heritage shopping and café strip into a car-free thoroughfare of ideas for sustainable living. Innovative exhibitors, children's activities and live performances will be on offer, as will plenty of local food, with Maldon's cafes and hotels all open on the day.
Two new books: Housing for Degrowth and Farming Democracy
Edited by Castlemaine resident Anitra Nelson, with Francois Schnieder,  HOUSING FOR DEGROWTH- Principles, Models, Challenges and Opportunities presents various activist-scholar responses to the challenges posed in creating housing for degrowth.
Degrowth is about transforming societies beyond capitalist growth and other forms of productivism to achieve global sustainability and satisfy everyone's basic needs. Degrowth values are based on sufficiency and conviviality, living a one planet lifestyle with low impact on the environment.
One planet living means conserving and retrofitting buildings for sustainability, allowing for 'alternative' self- and group-builds, temporary use-rights to buildings vacant for long periods prior to re-development, and appropriate and affordable eco-housing. Degrowth movement debates over urbanisation, decentralisation and 'open localism' are revealed so the collection is attractive for student, professional, academic and activist readers.
To purchase: download the Routledge Europe, UK and USA Housing for Degrowth PDF for discounted eBook and hardcover purchases.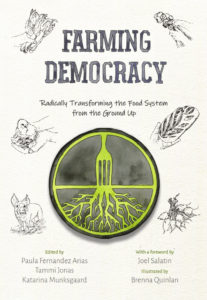 FARMING DEMOCRACY – Radically transforming the food system from the ground up: This book opens the farm gates, it opens the books and ledgers, and aims to open our hearts and minds to the farming community. It lets the world see the true work, rewards, and costs of farming!
Farming Democracy tells the story of family farms doing things differently. They are working for a 'new normal' in agriculture that is fair to soil, water, animals, and people. These farmers are building regenerative, agroecological systems that are viable in an epoch that has seen a sharp decline in the number of farms globally.
Co-edited by Tammi Jonas (from Jonai farms in Blampied) the book is published by the Australian Food Sovereignty Alliance and available at: https://afsa.org.au/product/farming-democracy/
Housing Justice Forum
When: Thursday 10th October 6.30 to 8.30 pm
Where: Senior Citizens Hall, Mechanics Lane, Castlemaine
To register: https://bit.ly/2k6Iq1v
Hear guest speakers Noel Murray (Council to Homeless Persons), Kerry Ashley (Haven Home Safe). Learn about local housing justice initiatives: CHIRP, Tiny Homes Project, Professor Crabtree (WSU), Mount Alexander Community Land Ltd; Mount Alexander Shire Accommodation and Respite Group (MASARG); and Mount Alexander Shire Council.
Participate in a community conversation about how we collectively address the injustice of lack of affordable housing. Children welcome and light supper provided.
October Culture Club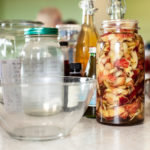 Spring clean your gut
When: Saturday October 5th, 9.30am – 12.30pm
Where: Senior Citizen's Hall (rear of Daylesford Town Hall)
This is a watch and learn workshop.
Free entry – no need to book, just come along.
Castlemaine Farmers Market– weekly
A new, hyper-local, weekly farmers market, in addition to the monthly Sunday farmers market, will commence on Wednesday November 6th, 2019 in central Castlemaine. This venture is in cooperation with the Harcourt Organic Farming Co-op, a chance to get weekly basics including fresh seasonal veggies, fruit, bread, diary, honey, eggs and meat. It will be local, it will be fresh and you will be able to shop for what appeals on the day or pick up pre-orders. It's a way of encouraging regenerative farmers and producers in the Mt Alexander shire will be prioritised.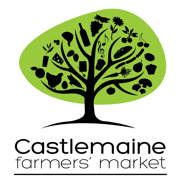 When : Wednesday afternoons from 3.30-6.30pm.
Where: around the Ray Bradfield room and between the old market building and the RSL –a similar location to the current monthly market.
Dictionary of Cosmo-Localisation
There will be a 'global jam' on 9th October for live direct contributions towards the dictionary of cosmo localisation- a  crowd-sourced A-Z guide to concepts and examples of 'design global, manufacture/produce local'. The purpose of this project is to develop short summaries, overviews and definitions of concepts and cases that are emerging with respect to Cosmo-Localization/Design Global, Manufacture Local (CL/DGML).
The overall body of work will be put on a website so it can be widely shared. The value of such a document is to provide an easy entry point for people so they can develop an understanding of new/complex ideas in a concise form, which enables them to communicate to audiences who are not yet familiar with these terms and ideas. An A-Z is not a linear document. A person can enter at any point, and exit at any other point.
The content will be published under a creative commons with-attribution license.
Central Victoria's Jose Ramos is one of the editing team for the Cosmo-Local Reader.
For further information: https://docs.google.com/document/d/1zGyTxMQMb6WACN9gLBn9DxIOGhLm9QfVy2j8oOWvRfY/mobilebasic
Banjo Jambouree- Guildford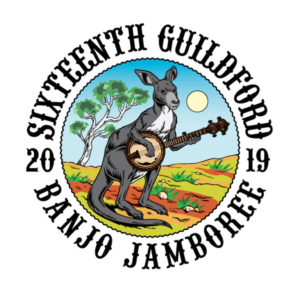 When: September 20, 21 and 22
Where: Guildford
The Jamboree highlights the banjo but all instruments are welcome. Traditionally the emphasis has been on American string band music (bluegrass, old-time, Appalachian, jug band, Hawaiian and blues) but more recently the program has expanded to encompasses other styles such as Celtic, Klezmer, Jazz and contemporary music.
The heart of the Jamboree is the camaraderie experienced by playing music with old and new friends: around the campfires, in the various rooms in the pub, the session marquees on the oval or the CFA station, in fact anywhere you like and it is that experience that has people returning year after year.
Concerts (programmed stage performances must include a banjo) are held in the The Public Hall and the stage at the Hotel beer garden. Smaller venues such as The Goldfields Music Hall and 'the stables' behind The General Store, host chalkboard concerts and banjo workshops.
Among the highlights are: the Saturday morning free children's program, Saturday night Bush Dance and the Sunday morning Gospel Sing Along which is followed by an Irish Session in the pub and the afternoon concert performers in the beer garden.
For more information: https://banjojamboree.org/
Chicks in the sticks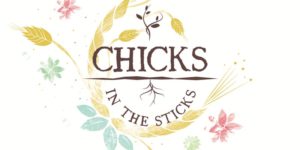 When:  Saturday October 26th, 10.30am to 2.30pm
Where: Moonambel Gap Olives (west of Maryborough and northwest of Avoca)
Cost: $25
Are you inspired by opportunity and the stories of others? Keen to meet like-minded women who share a connection to agriculture and the environment? Grab your gumboots, don your favourite frock and add your own native flora accessory…it's time for the 2019 Chicks in the Sticks event, hosted by North Central and Wimmera Catchment Management Authorities in partnership with Project Platypus Upper Wimmera Landcare Network and Pyrenees Shire.
2019 will be the seventh year we have hosted Chicks in the Sticks in the North Central CMA region. Bring along your best friend, mother, sister or colleague to what will be another incredible event.
Your morning will begin overlooking the Pyrenees Ranges,where you will be Welcomed to Country before a guided gumboot tour of the Moonambel Gap olive grove. Picnic-style lunch platters will be served, before keynote speakers Emma Ayliffe (Summit Ag) and Rebecca Phillips (Dja Dja Wurrung Clans Aboriginal Corporation) share their incredible personal and professional pathways driven by a vibrant passion for what they do.
We welcome you and your friends to an event that will showcase the impact of listening to the inner voice and cultivating your own pathway. Chicks in the Sticks will delight you, inspire you and empower you to create conversation and remain curious about where life may take you if you follow your passions.
Bookings/tickets: https://www.eventbrite.com.au/e/2019-chicks-in-the-sticks-tickets-66985618789
Central Vic Climate Action- a Funeral for 'Old King Coal'-  challenging  Coliban Water & engineering company GHD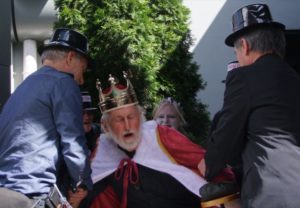 CVCA recently staged an action in Bendigo, a funeral procession for 'Old King Coal', to put Engineering company GHD and Coliban Water on notice. There was lots of colour and theatre, which saw a list of demands to Coliban posted on their front door as executives stayed inside.
The Bendigo Advertiser covered the story- placing more pressure on GHD to dump Adani or face continued community pressure and resistance.
The Stop Adani movement has established that Australian engineering firm GHD has the contract for the design of the actual mine. So the campaign has been taken up to GHD to ask them to honour their published commitments to environmental impact and sustainability. Clearly, participating in the opening up of the Galilee Basin to coal mining does not align with these commitments. Activists around Australia are addressing GHD in a variety of ways and we hope to persuade them to drop the Adani contract, as many contractors before them have.
Here in Central Vic, GHD has been an ongoing contractor to our regional water utility, Coliban Water, headquartered in Bendigo. In the last Coliban Water Annual Report, GHD earned a cool $2million carrying out a variety of works for our local State-owned water company.  Coliban Water is funded by the public and upholds responsibilities to the health of the water catchment in which it operates and has a strong commitment to environmental values in all aspects of their business.
Stay tuned as CVCA and supporters continue to put the heat on those companies supporting the Adani mine and other climate damaging fossil fuel projects.
Memory Workshops in Castlemaine
The Orality Centre will be running a set of memory workshops in Castlemaine, based on the research of our founder Dr Lynne Kelly, author of The Memory Code & Memory Craft.
Learn a variety of oral based memory methods used throughout human history by cultures from around the globe.Workshops offered: Memory Palaces, Memory Boards & Winter Counts.
When: Saturday September 21st and Sunday September 22nd
Art of Facilitation Training Programme

The Art of Facilitation Training Program is going local and modular, with five one-day modules.  Zenergy Global have received numerous requests to run the training in Modules rather than as an Intensive block and have decided to give it a go.  If you want to have a powerful impact in helping the groups you work with to achieve their purpose, then join us on our first modular course starting October.  For details contact Laurel@Zenergyglobal.com.au or call 0498 066 660.
Vocal Nosh
When: Sunday October 6th, 6pm
Where: Newstead Community Centre
This is the last Vocal Nosh for 2019. Join us for a hearty community sing.  Fay White will be leading us with the theme being Songs of Change and Courage.
There will be the usual hearty soup and bread at 7pm.
Cicada Story Slam in Daylesford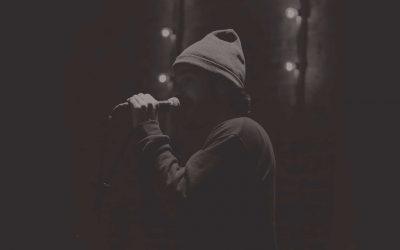 The Cicada is dedicated to the art and craft of storytelling and our aim is to honour the personal stories of our local community while creating a canvas of Hepburn Shire Stories.  Contestants have 5 minutes to win over the audience with a story. No notes, no props just you and the audience! We're looking for contestants with a personal story to tell, connected to the Hepburn Shire.
When: Thursday October 17th (Theme-  Journeys) and Thursday November 21st, (theme- Traditions)
Where: Back bar, Daylesford Hotel
Post Carbon Institute Webinar
When: 10th
October, 2019,
11:00 AM – 12:15 PM PT
Online, 75 mins
Cost: $25
How can we talk about the climate crisis in a way that inspires action?
Talking about the climate crisis with family, friends, and colleagues can be so difficult that we choose not to do it at all, even when we feel passionately about it. How can we overcome our reluctance to have these important conversations? And how can we talk about this issue in a way that tears down walls and allows for real, meaningful connections?
Karin Kirk and Susanne Moser, experts in climate change communication, will help us understand the best ways to approach this overwhelming topic with the people in our lives.
During the webinar we'll explore questions like:
How can we talk about the climate crisis in a way that inspires action?
What role does compassion and understanding play in discussing such a daunting and frightening topic?
How do we express the urgency and magnitude of the situation in a way that draws people into the conversation—rather than drives them away?
You'll come away with a deeper understanding of the strategies that work, inspiration to connect with people in your community—even those who disagree with you, and real world examples of how to make these meaningful conversations have a real impact on the people in your life.
A minimum donation of $25 will give access to our live, online event as well as a recording of the event as soon as it's available. Can't make it to the live event? Donate a minimum of $25 and we'll send you a link to the recording that you can access whenever is most convenient for you.
Food for Thought
We Need an Ecological Civilization Before It's Too Late
The crucial idea behind an ecological civilization is that our society needs to change at a level far deeper than most people realize. It's not just a matter of investing in renewables, eating less meat, and driving an electric car. The intrinsic framework of our global social and economic organization needs to be transformed. And this will only happen when enough people recognize the destructive nature of our current mainstream culture and reject it for one that is life-affirming—embracing values that emphasize growth in the quality of life rather than in the consumption of goods and services.
Local Futures: Planet Local library
Economic localization means putting people and planet above corporate profits. It means allowing for the full expression of human creativity, empathy and passion.
In our Planet Local library, we highlight some of the most outstanding examples of localization in action, profiling a cross-section of grassroots initiatives from around the world and from every sector of the economy — from agriculture to finance to renewable energy and everything in between.
Have you ever tried to explain what Local Futures is all about, but struggled to find the right words? Don't worry — help is here! Our website now hosts three pages that give an overview of why economic globalization is a root cause of so many of the crises we face, and how building local economies can offer systemic solutions to those crises.